Tyler Coupling Holds Tyler Pipe Route 66 Car Show
May 22, 2013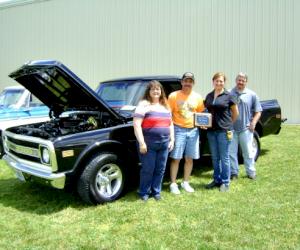 (Pictured from L-R: Karen Shinnebarger, Mark Clair (truck owner), Alicia Hardacre and Brian Lowe)
Since Tyler Coupling is the only McWane facility actually located on Route 66, the Wellness Committee wanted to do something unique and exciting to kick off their Get Fit on Route 66 Wellness Program. They put on their thinking caps and worked together to plan a fun filled event for everyone.  First, they furnished a healthy meal of grilled chicken, salad and fruit, which they ate outside.
Team members also brought their "vintage" automobiles to work for the Tyler Pipe Route 66 Car Show.  The votes were cast and counted and Mark Clair walked away with the "Fan Favorite" plaque.  If that wasn't enough, Elvis was also in the building for photo opportunities.  That's the second time Elvis has made an appearance at a McWane Get Fit on Route 66 Wellness event.
The Tyler Coupling team is looking forward to making the trip from Chicago to the Santa Monica pier in record time!