Tyler Coupling Team Enjoys a Night Out Together
August 19, 2013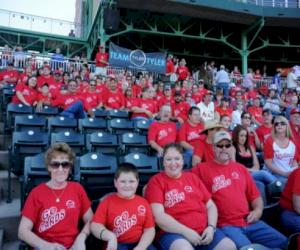 Team Tyler at a Springfield Cardinals Game
Tyler Coupling team members recently took time out to cheer on the Springfield Cardinals as they defeated the Midland Rockhounds by a score of 4-2.  The Cardinals "baby-birds" minor league team is at home in the Route 66 city of Springfield, Missouri and is a Double A affiliate of the St. Louis Cardinals.
Tyler Coupling provided team members with Go Cards/Tyler Coupling red t-shirts and Cardinal Dollars for concessions or Cardinal gear at the game.  Health and Safety Manager Alicia Hardacre was featured on the big screen as she answered questions in a trivia quiz while standing on top of the dugout.
Tyler Coupling team members were obviously loud and proud because Plant Manager Bill Hoffman was even interviewed by the local television station that was broadcasting the game live.  The team also drew for prizes before the game.