Tyler Pipe bids fond farewell to two team members with over 81 years of combined service
July 26, 2016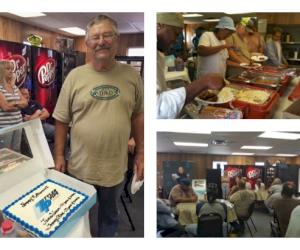 On July 15, Tyler Pipe bid fond farewell to two team members that had a combined 81 years of service at a team BBQ in their honor.  Tommy Stone and Mike Warren were longtime members of the shipping team at Tyler Pipe. 
After 37 years of dedicated service, Tommy decided to hang up his hard hat and put on his ball cap.  He plans to enjoy his retirement with his wife Gail and their new grandchild.  Tommy's career at Tyler Pipe was spent on both the hourly and salaried team.  In 2004, he was promoted to Receiving Coordinator in the shipping department and he finished his career as the Shipping Supervisor. James, after 44 years of service at Tyler Pipe, is also looking forward to retirement. 
We appreciate Tommy and Mike dedicated service and wish them a long and happy retirement.  You've earned it.