Tyler Pipe Children and Grandchildren Honored at Graduate Brunch
May 4, 2015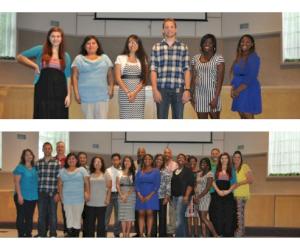 (Pictured from L-R: Brenna Wright, daughter of James Wright; Saria Avila, daughter of Raul Avila-Fernandez; Crystal Lopez, daughter of Jeremias Lopez; Rile Burrus, son of Rod Burrus; Ra'Jalay Buckner, daughter of Greg Buckner; and Jada Harper, granddaught
Five years ago, the Event Committee at Tyler Pipe decided that they wanted to do something special for Tyler Pipe's children and grandchildren that were graduating from high school.  Long-time committee member Heath Huffstetter actually borrowed the idea from his church that did something special for seniors every year.  And the rest is history.
Six excellent students participated in the Sixth Annual Tyler Pipe Graduate Brunch.  They met at Lane's United Methodist Church which is well set up for this kind of event.  Heath and his wife Leah made a delicious breakfast casserole which was accompanied by fruit, pastries and an assortment of beverages.
Tyler Pipe Assistant General Manager Greg Simmons gave an inspiring speech about the principles that have guided him throughout his successful career and the event was capped off with gifts provided by Tyler Pipe which included t-shirts, USB flash drives, VISA gift cards, stylus pens and luggage.
Everyone had a great time and they are looking forward to celebrating next year's graduates.  Congratulations to this year's graduates and good luck!