Tyler Pipe & Coupling Holds Open House
September 28, 2016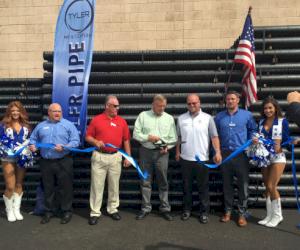 Thad Hicks (Tyler Regional Sales Manager), David Jones (VP-Wade Sales), Greg Simmons (Tyler General Manager), Sterling Bowman (Tyler Vice President of Sales), Patrick Leonard (Regional Sales Manager) and Dallas Cowboys Cheerleaders
On September 27, Tyler Pipe & Coupling held an open house and BBQ to celebrate the launch of their new warehouse located in South Plainfield, New Jersey.  This new warehouse distribution facility will allow them to better serve east coast customers by providing shorter shipping times as well as increasing inventory and product availability for customers.
The facility has approximately 65,000 square-feet of indoor warehouse storage which will increase efficiency in stocking and distributing products. There are also 6-acres of outdoor storage. The facility will operate from 6:00am to 4:30pm (EST) Monday through Friday and will be managed by New Jersey native Jerry Kosloski, a 25-year shipping and logistics professional. Pre-Arranged Pick-ups are available as early as 4am. The new Distribution Warehouse stocks multiple brands including; Tyler Pipe & Coupling, Wade Drains, Anaco-Husky and AB&I Foundry plumbing products.
"This new facility represents our continued focus on providing our plumbing products to customers as quickly and efficiently as possible," said Kurt Winter, Executive Vice President of McWane Plumbing Group. "The northeast region of the country is booming with commercial development and that's why we chose this strategically located region where we can reach New York City in just 30 minutes," said Winter. "We will continue to invest in infrastructure and logistics support to maximize our capability to perform as a leading supplier of storm and sanitary plumbing products", continues Winter.