Tyler Pipe Customer Service Has a New Workspace!
October 2, 2013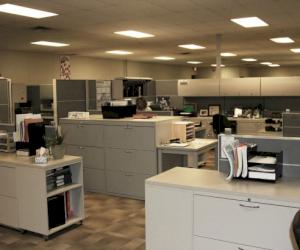 Tyler Pipe recently remodeled their Customer Service area.  The original idea was to open up the area to facilitate communication among the team, but during the planning phase that all changed.  They realized there were many things about their current layout that were less than optimal and they were given the opportunity to change what wasn't working and design a space that was efficient and easy to navigate. They changed the layout of the workstations, replaced the carpet and purchased new furniture with lower divider walls.
With these changes they were able to relocate the entire team into the same common area with an open floor plan and new modern workspaces where they could easily communicate with each other.  By relocating the file storage to a central area dedicated to Tyler Pipe, team members now have easier access to file invoices which means quicker customer service response times.  They also relocated the fax and other commonly used equipment to a central area that is an equal distance for each team member.  Storage, office supplies and other resources were also relocated to a central area.
Customer Service is a challenging job and the Tyler Pipe customer service team is a hardworking and dedicated team.  We are proud to provide them a more functional and organized work environment
If you have a chance, stop by and pay them a visit.