Tyler Pipe Donates $10,000 to East Texas Food Bank's BackPack Program
August 20, 2013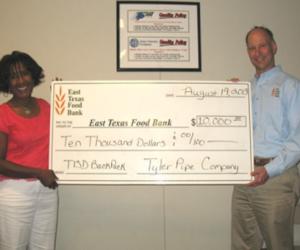 Just in time for back to school, Tyler Pipe donated $10,000 to support the East Texas Food Bank's BackPack Program at Tyler Independent School District.  The BackPack Program provides weekend meals to children who participate in school meal programs during the week, but face hunger on weekends.  The East Texas Food Bank's BackPack Program is designed to close the weekend "hunger gap" for children from low income families who might not have food otherwise throughout East Texas.  Every Friday, for 36 weeks during the school year, participating children will receive a backpack filled with nutritious, kid-friendly foods such as soup, peanut butter, granola bars, fruit, juice and shelf-stable milk.  It's enough food to last them until Monday morning, when school meal programs resume.
ETFB raises the funds to support the program, provide the food, buy the backpack, and cover all other administrative costs. Volunteers package the backpack "kits" at the East Texas Food Bank's distribution warehouse and deliver the kits directly to participating campuses. Staff and faculty members at each participating campus choose children that qualify for the program, based on an assessment of need, and store and distribute the backpacks.
During the 2012-2013 school year the East Texas Food Bank operated the BackPack Program at all 18 elementary campuses in Tyler and distributed nearly 30,000 backpacks, serving more than 1,100 children.  At a projected cost of $4.50 per backpack, a gift of $10,000 will provide food for 2,222 backpacks – enough for about 62 children to receive nutritious weekend meals throughout the school year.