Tyler Pipe Holds Sixth Annual Service Awards Banquet
November 18, 2013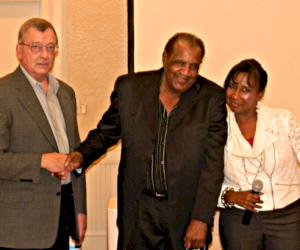 (Pictured from L-R: Tyler Assistant GM Greg Simmons, James Madison and Tyler HR Manager Faye Pettigrew)
On Saturday, November the 16th, Tyler Pipe celebrated their sixth annual Service Awards Banquet in honor of Team Members that have 25 years of service or more and they had an incredible turnout.  If you have questioned whether or not Tyler Pipe was a good place to work consider this.  An impressive 209 out of 420 Team Members have over 25 years of service!
Assistant General Manager Greg Simmons, assisted by HR Manager Faye Pettigrew passed out gifts to Team Members including their very own James Madison who has 54 years of service.  Saturday just happened to be Faye's birthday and she was happy to be able to spend it with 150 of her closest friends.  The food was wonderful, the banquet hall was elegant, the Jazz Band performed beautifully and the finishing touches made this a memorable night indeed.
Congratulations to the "old timers" at Tyler Pipe!  We look forward to seeing you again this same time next year.