Tyler Pipe Participates in Relay for Life
July 1, 2013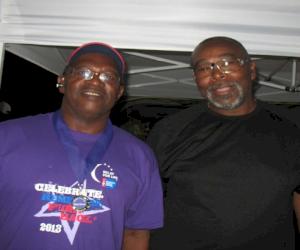 Tyler Pipe team members and cancer survivors John Gardner and Calvin Seward
The Cancer Crushers from Tyler Pipe recently joined 31 other teams and over 620 participants in the American Cancer Society's Relay for Life which raised $53,105.  This marks the 4th year that Tyler Pipe has participated in this worthwhile event.  Six team members from Tyler Pipe as well as five family members made the journey to Robert E. Lee High School to participate in the all-night festivities.  The Tyler team had also raised $859 from the sale of $1.00 raffle tickets and a company donation.
The Relay for Life gives participants an opportunity to raise money for cancer research that will one day find a cure for cancer.  Most of us have had friends, acquaintances or family members that have been affected by cancer and this event gives team members an opportunity to honor cancer survivors and remember those we have lost to this disease.
It was a frenzy of activities with people setting up their makeshift tents and chairs, bringing in coolers, battery operated fans and lots of food.  A little before 7:00 p.m. everyone gathered at the starting line for the opening ceremony.  Not unlike the Olympics, folks go around the track, almost like a parade, to symbolize the journey that one makes if they are affected by cancer.
There was also a survivor's lap which allowed people who had personally battled cancer to take a victory lap to show everyone that cancer had not won their battle with cancer.  The walking continued through the night until the light of a new day dawned.
Twelve hours later it was time for the closing ceremony which is a somber time for reflection.  It was a time to reflect on what we had accomplished as well focus on the ongoing fight still to come.
Congratulations to everyone at Tyler Pipe that participated in this event!