Tyler Pipe Team Beats the Heat with a Cold Slice of Watermelon
July 30, 2015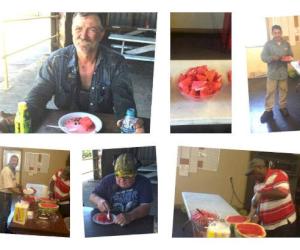 Several days this summer the temperature in Tyler, Texas has gone above the 100 degree mark.  "Of course, there is nothing like an East Texas summer unless it's an East Texas watermelon," said Tyler Pipe's Rod Burrus in the latest issue of the Tyler Pipe Monthly Newsletter.
It was such a hit last year that Tyler Pipe decided to continue the tradition and celebrate summer by bringing in some nice cold East Texas watermelons!  It was great to see a pickup truck load of watermelons being delivered for the "all you can eat" event.  Team members came prepared this year with their own lime salt and pickle juice.
Special thanks to the entire Tyler team for all that you do to make Tyler Pipe the nation's leader in cast iron soil pipe.
NOTE:  We were advised that Johnny Neely (pictured top left) passed away unexpectedly about a week ago.  Johnny was liked by everyone who knew him and he had worked at Tyler Pipe for 33 years as a well respected maintenance mechanic.  Our thoughts and prayers go out to his family during this difficult time.