Tyler Team Copes with Record Setting Heat!
August 24, 2015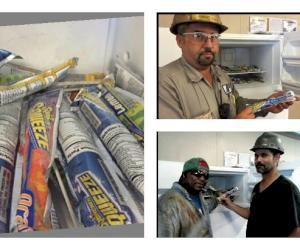 If you've ever experienced the workings of an iron foundry, then you know it is as hot as Hades inside.  Then to make things worse, place that same iron foundry inside the state of Texas which is experiencing a record high heatwave of 109 degrees!  Both of those factors together can lead to a heat stroke or a serious case of dehydration if not addressed.
Ted Sweetman, Tyler Pipe Safety Manager, saw this potential risk and was quick to come up with a solution.  The Safety Team at all of our facilities urges team members to drink plenty of fluids and take frequent water breaks to stay hydrated every day, but extreme heat calls for extreme measures.  Ted decided to purchase cases and cases of popsicles.  Not just the everyday popsicles you buy at the local grocery store, but he checked around and found Squincher in popsicle form.   An extra freezer was brought in and quickly stocked and within hours the Squinchers and the popsicles were gone!  In the past team members didn't really like the Squincher drinks, but when it was served up in popsicles, they changed their mind.  Squincher helps replace the electrolytes needed to keep their bodies hydrated.
Hats off to Ted for being on top of things in keeping the Tyler Team safe during this long hot summer!