Tyler Union Anniston Hosts 50 Visitors
May 18, 2015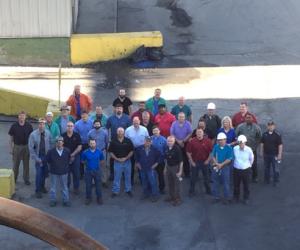 (Steve Bates, Melt Manager, is pictured with the group)
On May 7th, Tyler Union Anniston hosted approximately 50 visitors for a tour of the facility. The group included the David Kasun, P.E., Director of Foundry Technology at Kuttner North America, AFS 8F Cupola Committee and students from the 8F Practical Cupola class.
Tours guides Jon Pollard, Charlie Chastain, Steve Bates, Bryan Owens and Herb Sanders said there were many positive comments made about the housekeeping in the plant and our production equipment.
Before leaving, to attend the 8F Business Meeting in Oxford, Alabama, the group enjoyed breakfast provided by Tyler Union.