Tyler Union joins Eastman Worlds of Work presented by Honda Manufacturing of Alabama
March 17, 2016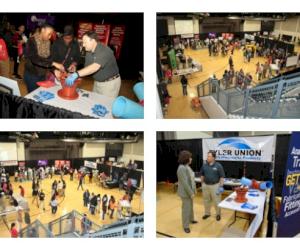 Tyler Union recently participated in the Eastman Worlds of Work hosted by the Calhoun County Chamber of Commerce and presented by Honda Manufacturing of Alabama.  The event was held at the Oxford Civic Center.  The purpose of the event was to serve as a career expo for nearly 2,000 8th graders from Calhoun County, Cleburne County, and Munford Middle Schools, as well as 11th and 12th grade students from area schools. 
Participating employers were divided into "career zones" and students were encouraged to visit each zone at the event or one that closely aligned with their interests.  The career zones were Energy and Utilities/Engineering, Public Service/Transportation, Manufacturing/Automotive, Healthcare/Hospitality and Tourism/Communication and Media, and Construction/Agriculture.  Tyler Union was part of the Manufacturing/Automotive career zone. HR Manager Anthony Whitley explained the process of manufacturing a ductile iron pipe fitting, showed students cores, rough castings, and finished castings, and allowed students to connect pipe restraints to a pipe fitting.  He also talked to students about the different jobs at the foundry and how relevant math and science classes were to these jobs. 
This event was a tremendous success and will most likely be held annually.