Tyler Union Supports the 35th Annual Historic Woodstock 5K Run
August 10, 2015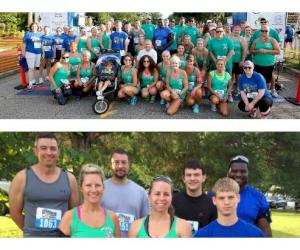 On August 1, Tyler Union Anniston team members, Amanda Ward, Sara Tongsuvone, Jon Pollard, Tony Schillaci, Edward Roberts and Brandon Schoening teamed up with "Bag Ladies & Guys" to run the Woodstock 5K in support of Venecia's Foundation. Tyler Union rallied behind the team by donating $500 for their cause.
Venecia's Foundation, a non-profit organization, was founded by Venecia Benefield Butler to aid and support cancer patients undergoing chemotherapy in Calhoun County and surrounding areas. Venecia, an inspiration to everyone she met, had battled cancer for many years and sadly lost her battle earlier this year.
Woodstock's Team Challenge (team with the most participants) offered a cash prize of $750 this year and we are proud to report that with over 1,200 runners the "Bag Ladies & Guys" placed an impressive third place and Sara Tongsuvone finished 3rd in her female age division!  Alabama Power's "Woodstock Kilowatts" came in first place and they graciously donated their winnings to Venecia's Foundation!
Pictured in bottom picture-front row L-R: Amanda Ward (HR Specialist), Sara Tongsuvone (HR Assistant), and Sara's nephew (Jake Dasher); pictured back row L-R: Jon Pollard (Plant Manager), Tony Schillaci (Assistant Controller), Brandon Schoening (Accounting Intern) and Edward Roberts (IT Manager)