Tyler Union team members complete CNC Flange Machinist Training
May 9, 2016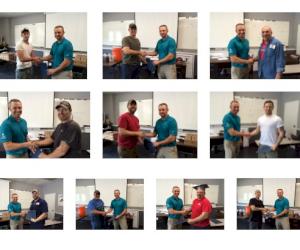 We are pleased to report that ten Tyler Union hourly team members and one supervisor successfully completed CNC Flange Machinist training on April 21, 2016.  They were honored with a graduation luncheon on April 29, 2016.  Also in attendance at the luncheon were Assistant General Manager Steve Johnson, Plant Manager Jon Pollard, and Foundry Manager Charlie Chastain.  This 16-week training course was conducted by the Alabama Technology Network–Gadsden with the purpose of providing students a broader knowledge of machining concepts in the areas of precision measurement, shop math, tooling, blue print reading, and machine operation.  The training in each module was designed to increase the students overall knowledge of machining concepts.  After completing each module, a test was given to measure the student's comprehension of the subject matter.  Students were required to achieve a passing score in order to progress to the next module.
Team members pictured from top to bottom, L-R receiving their training certificate from Plant Manager Jon Pollard are Tyler Stavely, William Holt, Scott Hunt, Ken Knight, Matt Wicklund, Michael Harden, Jake Betts, Barry Davidson, George Dyal and James Holt.  Also receiving a certificate but not present for the ceremony was Jeff Gregory, Flange Shop Supervisor.  '
Another training class is planned for the near future.