Tyler Union team members volunteer for Earth Day 2017 event
May 4, 2017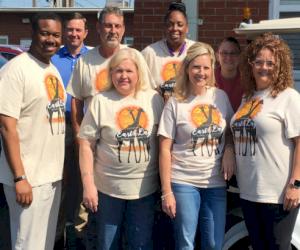 (Pictured from L-R: Jerome McQueen, Jon Pollard, Russell Bittle, Frantina Wilson, Julie Campbell, Denise Plummer, Amanda Ward and Renea McGathy. Not pictured Steve Johnson, David Bannister, Eric Gaines, Chris Hyche, April Person, Mark Vess and Mike Krum
Team members from Tyler Union located in Anniston, Alabama proudly volunteered again this year to work with the Calhoun County Extension Office for Earth Day 2017. The two day event on April 17-18 was held at beautiful Cane Creek Community Gardens at McClellan and Mother Nature could not have done a better job on the weather.

Over 800 4th graders from the Calhoun County area were treated to a hands-on education in plant vegetation, air and water pollution, boating and water safety, nature, recycling and animals with a live reptile show where they could see and touch several different reptiles. The importance of getting outdoors was also emphasized with Get Up and Get Moving Frisbee tosses, hula-hooping and jump rope games. Needless to say after all of this, the kids were worn out.

Thanks to all the Tyler Union volunteers!