Tyler Union–Anniston Volunteers for United Way "Day of Action 2013
July 8, 2013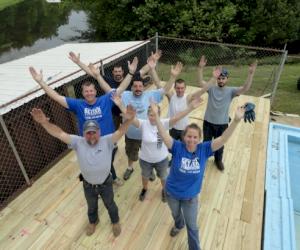 Volunteers Pictured from L-R: Keith Parris, Sara Tongsuvone, Steve Johnson, Amanda Davis, Jimmy Dowdey, Patrick Suddeth, David Bannister and Colby Parris. Not pictured: Kathy Knight & Mark Vess.
On May 10, volunteers from Tyler Union-Anniston (Union Foundry) partnered with the YMCA to help get Camp Hamilton ready for opening season! The "Y" opens their camp every year during the first week of June and as soon as the gates open the children are ready and waiting.
They had several projects that needed attention, but the Tyler Union volunteers focused on the pool deck for the first go-around. The 30 ft. x 70 ft. swimming pool deck was in dire need of repair, so they started by tearing out the old decking, making sure all the old rusty nails and screws were out of the way, stacking the old wood on a trailer for disposal and installing new decking.  Hammers were pounding, crowbars were swinging and saws were buzzing, what a job!
It was a much bigger undertaking than any of them thought it would be, but they were extremely proud of the finished product. Tyler Union volunteer Kathy Knight said, "Camp Hamilton is located off one of the main thoroughfares through Anniston, and I can't help but look every time I pass by and just think, Wow, someone did an amazing job on that deck!"
Congratulations to all of the volunteers for a job well done!