What could you build with spaghetti, tape, twine and a marshmallow?
August 8, 2017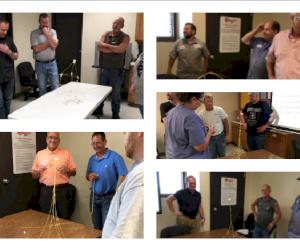 Jessica Tomlin, HR Director for Manchester Tank, recently visited the Quincy, Illinois plant to facilitate training for the managers, supervisors, and leads.  The subject of one of the training classes was giving effective feedback.  In this course, the teams learned about the SBI (situation, behavior, impact) model in order to help them frame feedback conversations to their team members.  A portion of this training class was dedicated to an activity called The Marshmallow Challenge.  The teams had to use spaghetti, tape, twine, a marshmallow, and some ingenuity and teamwork to build the tallest structure in 10 minutes. 

At the end of this training, they were required to use the new SBI model to provide each other feedback.  As you can see by the pictures it was an entertaining activity with good lessons and lots of fun.