What do you do at work dad?
July 10, 2018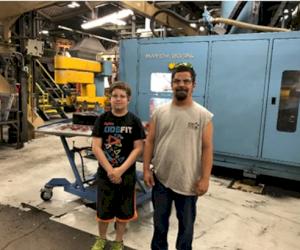 That is a question Curtis Miller felt he could better answer by showing his son the DISAMATIC (Disa) machine he works on every day in the Brass Department at the Clow Valve metal casting facility. Disa is an automatic production line used for fast manufacturing of sand molds for sand casting.  Curtis took his time explaining to his son what he does and the pride he has in manufacturing quality products that help save lives.

This is just one example of the loyalty, excellence, and sense of pride and importance of family felt by Clow Valve team members.