Where would we be without those amazing teachers?
May 4, 2017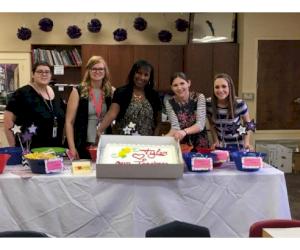 No matter how old you get, you probably still remember that special teacher that took a little extra time with you to let you know you could do whatever you set your mind to. Teachers play a crucial role in our children's lives and even our own lives, yet so often their contributions are overlooked. 

Tyler Pipe General Manager Greg Simmons and HR Manager Faye Pettigrew are members of the Tyler Business Education Counsel and this year businesses were asked to go to local schools to deliver cakes to the teachers to show them how much we appreciate their hard work and dedication. Tyler Pipe was pleased to have the opportunity to do this, but wanted to do more so they decided to also provide lunch for the teachers at Caldwell Elementary. 

The teachers were enjoying popcorn day when Faye showed up with a huge cake which was an unexpected surprise that the teachers certainly enjoyed.  If you have the opportunity, do something special for the teachers in your life.